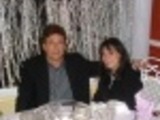 An excellent first course for your Mexican-themed dinner or party. Just make sure you are using the freshest scallops you can get, since you will be essentially eating raw fish. From Good Food Magazine May 1988.
Directions
Combine all ingredients in 8-inch square baking dish.
Cover with plastic wrap and refrigerate at least 8 hours.
Just before serving, remove zest and transfer to serving dish.
Serve chilled.