Perro Salado (Tequila Salty Dog)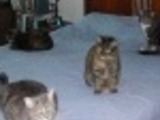 Submitted for Zaar World Tour 2005. This is a Tex-Mex version of the salty dog. If you have access to a sweet Texas red grapefruit, like Ruby-Sweets or Rio Stars, then it's recommended you use it in this recipe. From a special edition of Saveur, The Best of Tex-Mex Cooking. I ordered this at a restaurant once. If you're in the mood, you can double the tequila (hehe).
Directions
Rub a lime wedge around the rim of a tall glass, then dip rim in saucer of salt.
Fill glass 1/3 full with ice, add tequila and a squeeze of lime juice, then fill with grapefruit juice. Garnish with a wedge of lime.